About Us
Owen J Evans & Sons have been repairing all the big equipment & truck brands for decades. Owen Evans started his company in the early 1950s and built up a reputation for quality repairs on all vehicles and trucks.
His son Gary Evans took the company further by taking on different machines and equipment that had been damaged while on construction sites and the company grew to more than 50 employees spread across three department of light vehicles, trucks and heavy equipment during the 1980s. The Car department was eventually spun off into another company now called Panelzone which is still running today. 
During the 1980s Owen J Evans & Sons were a pioneering company in the NZ panelbeating industry. We had the first Guy Chart pulling systems from Canada. We also had the first bake ovens in NZ and contracted its services out to other panelbeaters in the Otahuhu area because it was too expensive for small shops to have their own oven. 
Throughout the 90s and then into the 21st century we have focused mainly on the niche area of commercial equipment repair while also repairing some trucks and most things in between such as trailers, Commercial pumps, Generators and fleet vehicles. When you have some commercial equipment that needs crash or rust repair, or even just needs a new professional refinish! we are the company that can get your equipment looking as good as new!
---
 The Management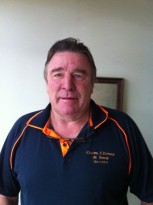 Gary Evans
Owner & Director
Gary started in the panelbeating industry in 1970 and did his apprentice under his father Owen (OJ). Back then it was mainly trucks and light vehicles coming through the workshop but Gary saw the opportunity to extend the company's services and started taking on repairs outside of the workshop at clients yards and sites as required. This service started to shape the niche area the company is well known for today. Although the company grew to about 50 employees throughout the 1980s working on all types of vehicles & machines, it is now a team of 15 focusing on the gear other company's aren't sure how to handle.
Jay Evans
Business Development
Jay never followed his father into the trade to begin with. After his 20th birthday he disappeared over to Australia and worked in several different industries after studying International business in Adelaide. In 2010 it was time to move back to Nz and help the company move into the 21st century and look at strategizing for growth in a mature market place. Jay brings fresh business ideas into line with the sound panelbeating and refinishing experience Owen J Evans & Sons have always offered. He is excited with opportunity and where the company is heading.
Geoff Sloog
Panel Shop Manager
Geoff Started with the company in 1981 and has been the Panelshop Manager since 1986. He has acquired a strong knowledge of excavator cab refurbishment while also taking on a broad structural understanding of other equipment and machines. He's been committed to Owen J Evans & sons for so long because of the diversity in repair work he see's coming through the shop.
Juan Edmonds
Paint Shop Manager
 Juan has been with Owen J Evans & Sons since 1980 and paintshop Manager since 1986 when the company brought the first auto bakeoven in NZ . He has worked on all kinds of commercial equipment and light vehicles. He enjoys the challenge of working on different gear and bringing equipment back to a top end finish after its repairs. He has seen a lot of changes in the industry over the years but little of them affect the way you approach large machines such as cranes & excavators.